Go back to the main page

Not Again is a weave that I devised while trying to learn GSG. The name comes from the fact that I had once again failed to get that weave correct. Not Again is a chain weave with a bit of breadth to it, created by turning some form of Half- Persian sheet sideways (much like GSG).

Step 1: Make a little unit like this. Put rings 1 and 2 on ring 3. Pass ring 4 up through ring 1 and down through ring 2. This is a simple Half-Persian stitch, and it forms the basic unit of Not Again.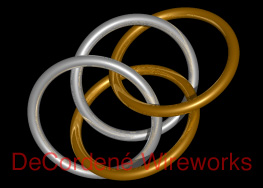 Step 2: Put two closed rings on an open ring. Pass the open ring through the two right-hand rings in the unit you made in step 1.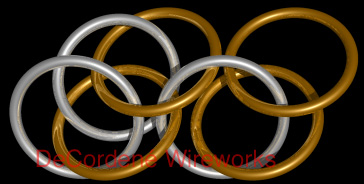 Step 3: Pass a new open ring down through the upper-right ring and up through the lower-right and upper-left rings in that area. Sorry; poor wording. Basically another Half-Persian stitch to finish up another unit of Not Again.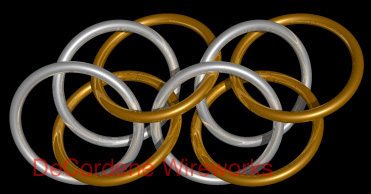 Step 4: Repeat step 2. An open ring carrying two closed rings goes through the two rings on the right-hand side of the chain.





Step 5: Repeat step 3. Do a Half-Persian stitch on the three available rings.





That's the weave. Keep on going to your heart's content.



Go back to the main page
All items on this site are copyright 2002 Chris Weisiger (a.k.a. Derakon). That's right - I made everything on this site. Reproduction of any of my work i\ n whole or in part requires my express consent.