Go back to the main page
Soldering is a useful technique for jewelers. It improves the strength of pieces and allows you to make non-circular links. But it's not always all that easy. On this page I'm going to list the tools I use for soldering and where I got them, as well as a few basic pointers on soldering rings for maille.
First off, here's my tool list:
One pair of Craftsman tweezernose pliers
My handy Wiss M3 snips
Borax liquid flux
Sable brush
Fine silver wire
#65 silver solder sheet (30 gauge)
One small hunk of concrete
Butane-powered torch
Water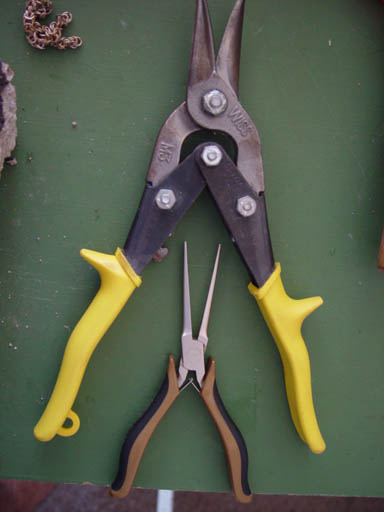 Craftsman tweezernose pliers
These are the same ones as pictured in my foxtail instructions. I use them as tongs for gripping hot wire, for the most part. Although other pairs of pliers would work as well, the tweezernose get a better grip on thin wires like the 20 gauge I typically use for loop in loop work. I bought these things at Sears; they have good leaf-style springs and the standard Craftsman lifetime guarantee.


Wiss M3 snips
Also bought at Sears, although unfortunately without a lifetime guarantee (the Craftsman shears are poor quality, by the way). These are used to cut new rings from the coils, as I need a good flush cut to make soldering work. I also use them to cut the silver solder sheet.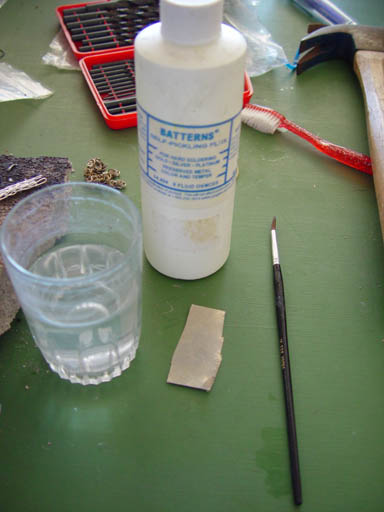 Borax liquid flux
Habitual lazy shopper that I am, I bought this online from 550 Silver and Supplies, along with the wire, solder sheet, and brush. Flux serves many purposes when soldering. It keeps the solder area clean, it prevents the metal from oxidizing, and it makes the solder stick to the joint.


Sable brush
This brush is unbelievably useful. I use it to apply flux to the ring and solder, and to place the solder onto the joint. If I tried to do that last bit by hand or by pliers, I'd never finish a job. I got this brush from 550 Silver and Supplies; see above.


Fine silver wire
Fine silver is 99.something% pure silver. It has an advantage over sterling silver wire (besides the increased value of silver) - it won't oxidize as easily. Cleaning oxidation off of sterling silver wire is a pain; it's worth your time to just go ahead and buy fine silver. This was bought, again, from 550 Silver and Supplies. Oh, and I use this stuff to make the rings. Funny, that.


#65 silver solder sheet
#65 solder has a good silver content but still melts much more easily than normal silver. This is good, as it means that you're unlikely to accidentally destroy your ring when you try to close it shut. Do not use lead-tin solder; you're making jewelry here and don't want to risk poisoning someone (including yourself; solder can give off fumes when you melt it). I use the Wiss snips to cut small squares (1/16" to a side or smaller), which I then grab with the brush and put on the joint. Again, bought from 550.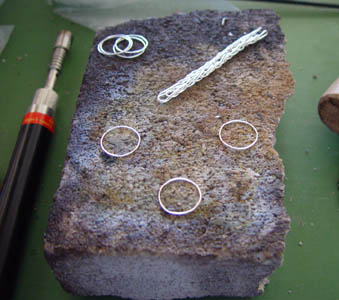 One small hunk of concrete
Definitely the cheapest item in my tool list, this hunk of rock serves me as a soldering block. You can get higher tech with something like a board covered with asbestos or a firebrick, but concrete works about as well. Make certain that you don't get a dense piece with a high water content - the heat to which you submit it could cause the thing to explode. You want something like what the average sidewalk is made from. Don't use your own sidewalk; take your piece from a few blocks away.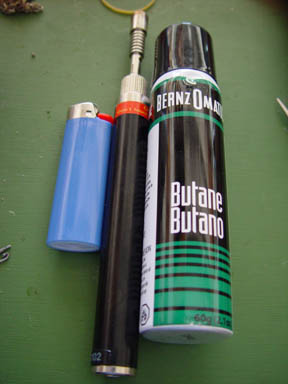 Butane-powered torch
Okay, it doesn't have to be butane. You can use a propane torch, or an oxyacetelyne torch if you like. But butane is more than enough for this purpose. The torch is used to melt the solder so that it flows into the joint on the ring. I bought my torch here from Micro-Mark (again, exhibiting the characteristics of a lazy shopper who doesn't want to leave his room). It's a decent torch, refillable with a lighter refiller. I wish I didn't have to use a lighter to get it started, but then again, I only paid $20 for it. Don't forget to get fuel.


Water
Water is good. You can use water to anneal your rings or finished piece - just heat the metal up to a cherry glow and then dunk it in the water. You can also transfer just-soldered rings from the block to the water with the pliers, thus making the rings cool enough to handle. I buy my water from a distant mountain in France, but if you must, tap water makes an okay substitute.


Random hints

Remember, the hottest part of the flame is just in front of the inner blue cone. Anywhere else may be too cool to melt the solder. Alternatively, if you're using a powerful torch, you may want to avoid that part of the flame, which could melt your ring.

Heat the joint, not the solder. This is a classic hint. More importantly, heat the join evenly, or else when the solder melts, it will flow to only one side of the joint.

If you approach the joint with your torch too quickly, then the flux can boil and send little bits of metal flying. Therefore, approach slowly, giving the flux time to dry. Once it's dry, you can proceed with melting things together.

Consider practicing with copper wire first. It does a decent job of simulating silver wire (similar hardness), but is a heck of a lot cheaper. Of course, you'll have silver spots on your rings where the solder goes, but oh, well.

If you're making a soldered chain where links have to be soldered shut after being added in (i.e. not loop in loop), then try to keep everything except the link in question wet. This will reduce the chain that you remelt solder on a previous ring, which generally necessitates cutting out several rings from the piece. If you're soldering rings for loop in loop, or anything else where the rings can be soldered before going into the chain, try putting the piece of solder underneat the joint instead of on top. This isn't usually possible with normal chains, but in this case it is, and it reduces the chance that the bit of solder will move, either from boiling flux or from pressure from the torch.

If you have any questions, feel free to send them my way. I'll do my best to answer.


Go back to the main page

All items on this site are copyright 2002 Chris Weisiger (a.k.a. Derakon). That's right - I made everything on this site. Reproduction of any of my work i\ n whole or in part requires my express consent.