Go back to the main page
The spiral chain is an interesting chain that makes a beautiful spiral (hence the name). The only problem with spiral chains is that they will unwind unless they are secured at both ends. This actually makes spiral chains very difficult to work with sometimes; though they are not difficult to make, it can be quite aggravating to attach them to other items. Still, spirals themselves are not terribly difficult to make.
Good ring sizes for spirals include 3/8" 14 gauge, 5/16" 16 gauge, and 1/4" 18 gauge.
For these instructions, copper rings are new rings in the weave. They pass through silver rings. Brass rings are not involved in the current step.
Step one: Close a ring. Simple enough, yes?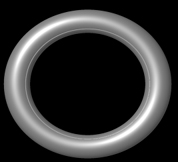 Step two: Pass a ring through the closed ring. Close it.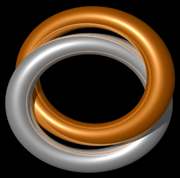 Step three: Pass a ring through the first two rings. Remember which direction through which you passed it in; you must use the same direction for all of the other rings, or else the spiral will reverse direction.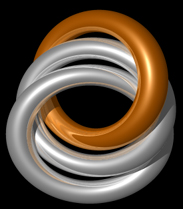 Step four: Pass a ring through the second and third rings, in the same direction as the third ring used.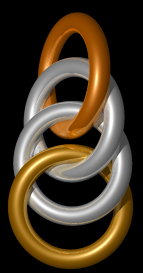 That's it! You can keep adding rings in this fashion until the chain is as long as you want it to be. Have fun!

Finished spiral chain:



Go back to the main page

All items on this site are copyright 2002 Chris Weisiger (a.k.a. Derakon). That's right - I made everything on this site. Reproduction of any of my work in whole or in part requires my express consent.