| | | | | | | | |
| --- | --- | --- | --- | --- | --- | --- | --- |
| Posters | Intructions | Renders | POV-Ray | Gallery | FAQ | Contact | Links |
Go back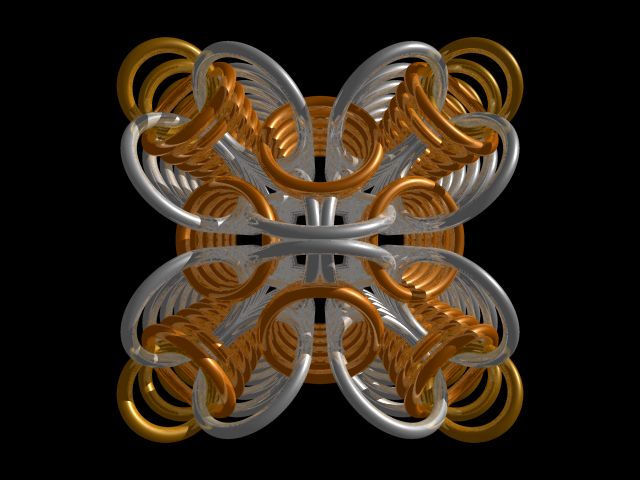 New posters are available! Rather than try to get enough interest in a single image to make doing a print run feasible, I've found a company that is willing to make individual prints at a reasonable price. It's still more expensive per-poster than the print-run method, but at least this way I can get my images out to you. You can now order any image on my site, and within a week I will have a poster ready to ship to you (assuming that UPS doesn't lag behind). The posters are not in as heavy a stock of paper as that for the 11x17" posters below, but since thos were made from really thick paper, that's no real surprise. Unless you specify otherwise, posters will be on glossy paper about as thick as a standard poster from a store.
Believe you me, there's all kinds of detail that you miss with the puny computer-screen versions that you can see on my site. For example, this image in a 24x36" print allows you to see all of the reflections in the rings that look like blurred brush strokes on your screen. These posters are far more beautiful than what I can show you with my online gallery. They're worth getting.
The new posters cost $18 for an 18x24" print, or $24 for a 24x36" print. If you want me to sign the print, then you'll have to pay extra for the shipping involved (the print company ships me the poster, I sign it, and then I ship it to you). At this point I'm not really certain how much shipping will cost; it depends on several factors for which I don't have a good feel, so I'll be solving this problem on a case by case basis (in other words, talk to me about costs before sending any money).
If you're interested in buying one, you can send me a check, cash, or money order (see my Contact information), or send me money by Paypal. Since Paypal does extract money from payments, I ask that Paypal users add an extra dollar to the cost (making it $16 for people in the U.S.). Think of it this way - you're saving postage and the transaction time is less. My Paypal account name is cweisiger@hmc.edu
All items on this site are copyright 2004 Chris Weisiger (a.k.a. Derakon). That's right - I made everything on this site. Reproduction of any of my work in whole or in part requires my express consent.